An immersive space in hospitals

​
For hospitals that want to have an inclusive play space to improve the well being of their patients as well as their respective family members.
The Foundation, It is Now assembles artists who serve children with special needs. The play spaces offer an immersive voyage thanks to digital art that sparks creativity and curiosity as well as promotes interaction. The objective of these play spaces is to offer children a unique inclusive artistic experience that they can share with their families.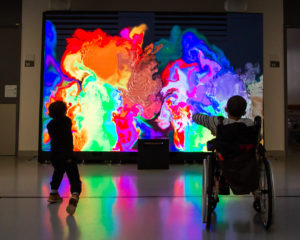 Impact of our project
This digital artwork benefits to children of the Imagine Institute of Necker. The institute recieves more than 30,000 children on consultation each year in its building.
Interactive Art, "Reflections" created by Danny Rose. 
Installed in the atrium of Imagine Institute of Necker since February of 2020